Athens, Mycenae, Nafplio, Olympia, Delphi, Mykonos, Crete & Santorini
The Greeks have a word for a feeling that expresses joy, fun, passion, and loving life: kefi. On our guided Greece land and cruise tour, we'll explore the country's classical cities and enjoy island hopping in the Mediterranean. We'll visit must-sees like the Acropolis, Parthenon, the ancient theater of Epidaurus, the ruins of Olympia, the Acropolis of Rhodes, and picturesque Santorini. We'll also visit the medieval town of Nafpaktos and enjoy some free time in the romantic city of Nafplio, and the ski resort town of Arachova, nestled in the mountains. We'll slow down and savor Greek wines at a family-run winery where we'll survey the vineyard and see the barrel-aging cellar. As we take in ancient archeological sites and the stunning vistas of the Mediterranean Sea, our smarTours guide brings the fascinating history and rich culture of Greece to life.
Shorten Your Trip! Enjoy our Spectacular Greece tour visiting Greece's highlights from Athens to Olympia to Delphi!
Did you know you can make this tour private? Find out about pricing and options for groups of 15 or more travelers.
Itinerary at
a Glance
Tour Itinerary:
2 nights in Athens
1 night in Olympia
1 night in Delphi
2 nights in Athens
4-night Greek Island Cruise (including Mykonos, Crete, Santorini and more)
Tour Highlights
Acropolis, UNESCO World Heritage Site
Mycenae archaeological site
Visit the picturesque towns of Nafplio, Nafpaktos and Arachova
Olympia, UNESCO World Heritage Site
Delphi
Winery tour and tasting at family owned vineyard
Mykonos
Ephesus, UNESCO World Heritage Site
Patmos
Rhodes with Philerimos and the Palace of the Knights
Crete
Santorini
Your Tour Includes
Optional round-trip airfare from the New York area (varies by departure) including taxes, fees & fuel surcharges
Intra-Greece ground transportation and transfers by air-conditioned motorcoach
Accommodation at first-class and deluxe hotels
4-night Celestyal Cruise (includes select alcoholic drinks with lunch and dinner*, gratuities for crew and port charges)
22 meals: 10 breakfasts, 4 lunches, and 8 dinners
Comprehensive sightseeing tours and entry fees as per itinerary
Two included shore excursions and optional shore excursions available to purchase on board the cruise
Professional English-speaking Tour Director throughout
Max Group Size:
30 travelers
Activity Level: Level 2
Expect most included touring to require walking and standing periods up to 4 hours at a time (up to 2 times per day). Included touring may feature light hiking, and/or stairs on some hilly and/or uneven terrain. Learn More
Pacing Level: Moderate
Expect full-day tours most days with some limited free time at specific sites, for meals, and/or in the evenings. You can expect several early mornings and/or long travel days by bus (don't worry—there are always comfort stops!), and you may expect to stay in most accommodations for 2+ nights (with limited 1-night stays). Learn More
New in 2025: ETIAS Visa Waiver Required for U.S. Passport Holders
A valid passport is required for international tours. Effective for travel in 2025, U.S. passport holders are required to apply for an ETIAS visa waiver. Please visit our Passports & Visas page to learn more about any required actions, next steps, and additional costs.
Most sites on the shore excursions and sightseeing include walking over uneven terrains and steps. It might not be best for those with walking difficulties. During the cruise, there are early wake-up calls as the touring starts as soon as the ship arrives at the port.
For more detailed information about this tour and destination, visit our Before You Depart section.
Flights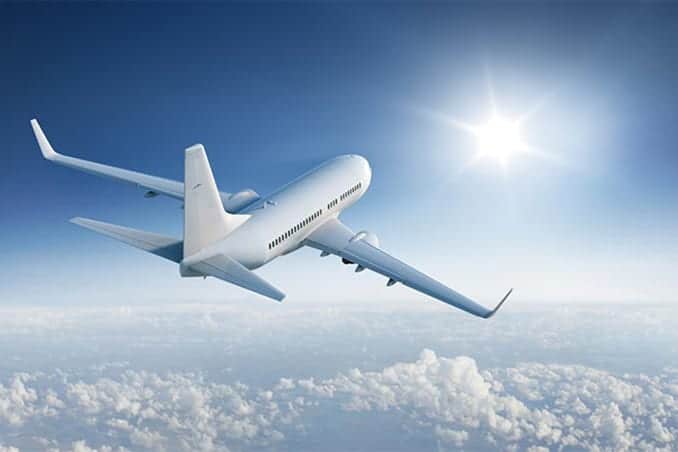 Passengers who purchase flights will depart 1 day before the tour starts and return on the same day as the tour ends.
For flight details, see Before You Depart.
Day 1: Arrive in Athens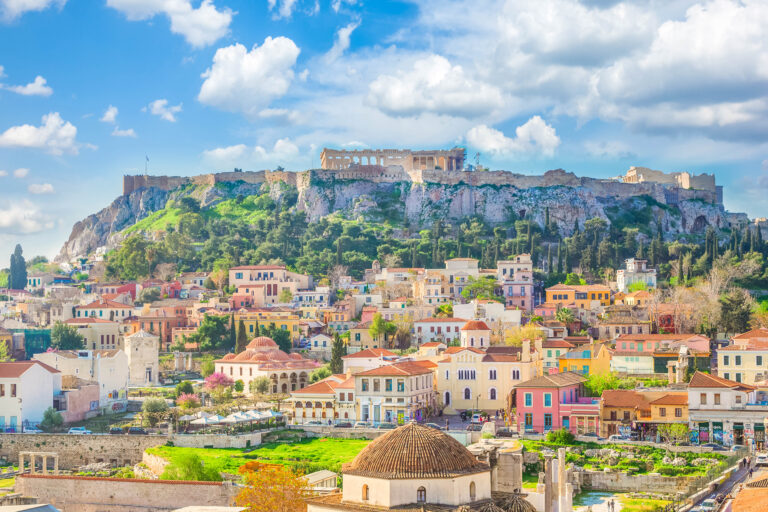 Welcome to Athens, the capital of Greece. Travelers who purchased our air-inclusive program will be met and transferred to our conveniently located hotel for some time to relax. Later, we'll come together as our tour director hosts a welcome dinner.
Accommodations:
NYX Esperia Palace Hotel Athens or similar
Meals:
Dinner
Day 2: Athens
Day 3: Athens – Mycenae – Nafplio – Olympia
Day 4: Olympia – Nafpaktos – Delphi
Day 5: Delphi – Arachova – Athens
Day 6: Athens
Day 7: Embark on Greek Island Cruise – Mykonos
Day 8: Greek Island Cruise: Kusadasi – Ephesus – Patmos
Day 9: Greek Island Cruise: Rhodes
Day 10: Greek Island Cruise: Crete (Heraklion) – Santorini
Day 11: Disembark Cruise & Depart Athens
Save up to $600 per person sitewide while supplies last. Book by Dec. 1st.
Prices listed as "with flights" below include round-trip airfare from one or more airports in the USA. Travelers may choose to purchase the tour only, and arrange their own arrival in destination. Please note this may change your tour start date.
2024 Tours
With Flights
Tour Only
Flights not available

From

$3,899

$3,449

Book Now
Flights not available

From

$3,899

$3,449

Book Now

From

$4,899

$4,449

Book Now

From

$3,899

$3,449

Book Now

From

$4,999

$4,549

Book Now

From

$3,999

$3,549

Book Now

From

$4,999

$4,549

Book Now

From

$3,999

$3,549

Book Now

From

$4,999

$4,549

Book Now

From

$3,999

$3,549

Book Now
Flights not available

From

$3,999

$3,549

Book Now

From

$5,349

$4,899

Book Now

From

$3,999

$3,549

Book Now
Flights not available

From

$3,999

$3,549

Book Now

From

$4,999

$4,549

Book Now

From

$3,999

$3,549

Book Now
Flights not available

From

$3,999

$3,549

Book Now
Flights not available

From

$3,899

$3,449

Book Now
Flights not available

From

$3,899

$3,449

Book Now
Rates are per person based on double occupancy.
Single supplement applies when not sharing a room. Select a date above to see the rates for that specific departure.
For more information on this tour, please contact us here or call us during business hours (Monday-Friday from 9:00 am - 5:30 pm Eastern) at 1.800.337.7773.
Reservations and Payments
Reservations can be made online or by phone (1.800.337.7773) and will be confirmed upon receipt of your non-refundable, non-transferable deposit, which must be received at the time of reservation. Deposits are $300 per person. Full payment is due 120 days prior to departure. Space and prices subject to availability. Please see the smarTours Terms and Conditions for complete booking information.
Optional Tours
Customize your trip with these optional tours.
Enhance your trip with our recommended optional tours. Indicated optional tours are available to pre-book when you reserve your trip and can be added to your reservation up to final payment. This is the best option to guarantee your spot on your preferred optional tour! Optional tours require a minimum number of participants. Optional tours are non-refundable unless they do not operate.
Some optional tours can be purchased in-destination and may cost extra. The payment methods and currency information to purchase tours in-destination will be provided on final documentation.
Countryside Tour with Chora and the Grotto of Apocalypse
Palace of Knossos
Spectacular Oia Village Perched on the Caldera Rim
Featured Accommodations
NYX Esperia Palace Hotel Athens
Hotel Europa Ancient Olympia
Amalia Hotel Delphi
Celestyal Olympia
David G
This was our first time to Greece. We enjoyed visiting the archaeological sites and museums, and learning about Greek history, food, and customs. The combination of land tours and cruising was very appealing, and we were not disappointed. The hotels were excellent, and dining was a pleasant experience. Buses were comfortable and roomy for a group our size. All the luggage was handled for us and our needs were met each day. This is the first tour of this type we have participated in as we generally travel on our own. We were pleased with the service and enjoyed our fellow travelers and our tour director.
Julie C
Greece SmarTours is a high-value trip, which balances educational and recreational actiivities at each individual's level of preferred involvement..
Linda
Good value for the money, as we see other tour companies at the same places, except they are paying more. . It's my fourth trip with SmarTours.
Isabella S
Gina Angelopoulou was spectacular! Greece is spectacular! I had an amazing time. The only thing I can say is that it was a lot of learning and listening about historical facts, which is not my favorite, but it was a good balance since the hotels and cities were so fun and beautiful!
Mary S
I loved getting to see places in Greece that I have always heard of and learning the stories behind them. I think that Smartours provides a trip that is a good value for your money as they make and effort to hit all the highlights but also insert a few culture experiences during the tour.
Sue
This was a wonderful trip with early morning calls .A lot of hills and uneven terrain, amazing scenery and history. The cruise was fine,the cabins were small and the showers minuscule . The staff and food were very good. The tours were excellent, and the bus drivers were amazing. Our tour guide, Mary, was very knowledgeable, and concerned about her tour guests. The only problem was the airline, Emirates , the seats were cramped and the service uncaring and absent.
Shirley B
On the whole the trip was good. Needs more time on the islands. Food was good. The ship's cabins were extremely small.
Julien
Great trip! Loved the ability to see several Islands by way of cruise. Would like to have had a little more time on each island with combination of morning tours & evening personal exploration before returning to boat. (Maybe one island per day to accomplish this) Loved the traveling land tour with multiple stops to see outstanding monuments and sites.....a bit fast paced to have time to fully see more details but nevertheless GREAT experience with a lot covered in a relatively short time. Our Tour Director Gina was fantastic as she made sure we got the most out of each stop and helped us avoid potential tourist traps that many fall for. She was Great and has lots of heart for people and making sure they enjoy thier travels. -- Food on boat was a bit mediocre but okay -- bus tour would be better if there was a toilet available on bus....this would decrease the amount of group restroom stops with more time for exploration of sites. -- Over all the trip was VERY GOOD and we would definitely travel with Smart-tours again as well as recommend others to consider thier services.
Ramesh r
Enjoyed utmost,never can be asked for more,memory will stay for very long time to come. Thank you.
Dudlene
Views of Santorini
Gina D
Excellent trip- amazing Gina 😃
Josette
It a nice vacation I really enjoy my time and tour visits with my family. Gina made this experience the most memorable.
Nirva B
I traveled with 29 family members and it was an absolutely amazing experience and trip. The cherry on top was our tour director, Gina Angelopoulou. Gina was more than a tour director, she was more like our Greek mom. She was caring. She waited for every member of our tour at the end of every excursion and ensured that we all made back safely. She was able to have our group called first to disembark the ship every day of the cruise. She was knowledgeable. Cute and witty. Sensitive to our needs. My aunt needed a new battery for her diabetes patch. Gina went above and beyond to find a pharmacy that sold the battery. I cannot say enough about how wonderful Gina was. A few of us actually got teary eyed when we said our goodbyes to Gina. The ground transportation was great. Temperatures were always in the low 100F and high 90s. It was unbearably hot. The coach bus was always nicely chilled with bottled cold water available. The tours were well organized. Although we had several early morning tours, turns out it was best because we were not exposed to the scorching hot sun in the middle of the day for outdoor excursions. The welcome and farewell dinners were so thoughtful. Athens has some of the best views I have ever seen. The restaurants chosen offered beautiful views. The cruise line was the least impressive part of the trip. The staff and excursions were great. However, the ship was dated and the food was subpar. Thank you Smartours for yet another fantastic vacation! See you next year.
Beverly K
I brought back great photos and memories.
Leave a Review