Private Group Tours
Enjoy Private Tours Plus Special Group Leader Perks!
smarTours creates life-changing travel experiences by visiting awe-inspiring sights, delivering meaningful, immersive experiences, and fostering connections with locals and fellow travelers alike. Our tours are guided by local experts who are passionate about their destination and sharing their home and culture with guests. We want to bring the world closer together so we work hard to ensure we're delivering outstanding experiences at a price that allows more people to travel, experience the world, and become global citizens.
Take all that smarTours has to offer, and create your own private travel experience, exclusive to you and your party of 15+ travelers. Our private tours are perfect for any group that shares a common background, heritage or interest, and wants to travel together: family, friends, alumni, religious groups, travel agent groups, ski clubs, travel clubs, and more! Work with a smarTours Travel Expert who can help you from the planning stages through the end of your journey, giving you peace of mind that every detail is given our expert attention.
So, why choose smarTours?
Select from our portfolio of 60+ tours visiting 50+ countries
Extraordinary guides that are passionate about their destination and here to help on tour
Visit must-see sites, enjoy authentic, local experiences and connections
Special inclusions catered to your interests to make your trip unique
Enjoy smart pricing that can include airfare and more
Dedicated travel experts to help you craft your perfect tour
End-to-end planning, including flights from your local airport
First-class or upgraded accommodations for your group
Types of Private Groups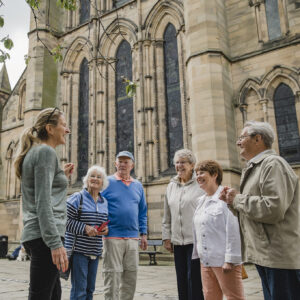 Take Our Tour, Your Way
Enjoy some customization for 15+ travelers
Take one of our curated tours! These tours are travel-tested and constantly refined with traveler feedback. Rest assured that when you take one of our curated tours, you're sure to have a good time. Plus, when you travel with us on a private group basis, we're able to customize your international flights so your group can depart from your local airport.
Your Way All the Way
Enjoy a fully customized tour for 20+ travelers
Know exactly what you're looking for in a tour? With a group of 20+ travelers, you can enjoy a customized itinerary from the airport you depart from to the destination to your included sightseeing and more! You can depend on our Travel Experts to guide you through the planning process, and our expert Tour Directors to ensure you have an incredible time!
Affinity Groups
For Alumni Groups, Ski Clubs & More!
Build a portfolio of tours for your organization! Not only can you plan a private group tour, but you can also build a private group portfolio of tours, allowing you to share incredible travel experiences with a larger organization. The frequency of departures, inclusions, and more is up to you to decide as our Travel Experts lend their insight and make the arrangements.
Why Take a Private Group?
Educational Groups
Perfect for museums, alumni groups, and other organizations with a special interest in education and history.
Athletic Clubs
Athletic organizations like ski clubs allow people with similar interests to travel with old friends and acquaintances.
Religious Organizations
Travel with your local JCC or other religious organization to explore your faith with people around the world.
Civic Organizations
Join your local civic organizations like your Chambers of Commerce on an exclusive international tour!
Multi-Generational Families
Create lasting memories for the whole family. From grandparents to grandchildren, create a trip everyone can enjoy.
Milestone Celebrations
Celebrate milestone birthdays and anniversaries by crossing off your bucket list with all of your favorite people.
Community Clubs
Travel with people in your local community who share your interests! From travel clubs to language learning and more!
Discover Your Heritage
Explore your roots with a heritage tour! Invite your friends and family and immerse yourself in your family's heritage and culture.
Testimonials
First off, our guide was a dream guide. He was perfect for our group, well informed, organized, and fun. We could not have asked for anything more; and although he was both guide and driver, he handled everything perfectly. The agenda was great… The optional events I chose for the group were all great fun and enjoyed by all. The weather cooperated beautifully. The bus size was ideal both for the size of our group and for flexibility for the driver. Thanks for everything – the trip was a success and we had a great time.
Still Have Questions?
One of our Travel Experts would be happy to contact you about traveling with smarTours on a private group basis! Click "Request a Quote" to provide our Travel Experts with some preliminary information about your group, what you're looking for in a tour, and how best to contact you so they can follow up.